Experimenting with several eyeliner styles gives ladies plenty of choices when it comes to playing with makeup. You can simply change your appearance from natural to trendy and sexy with a simple eyeliner switch.
Today, we will make you learn five different eyeliner styles that can enhance your makeup to the next level. Come on. Grab your liner and start working on these exceptional styles!
1. Natural Style Eyeliner Look
It is mainly intended to impart a natural look to your eyes. Let us learn the step by step procedure-
Step 1:
This is the easiest and simplest natural looking, basic eyeliner style. It goes well with daily makeup. In order to have this simple eye makeup, just follow the natural shape of your eyes. Just start by drawing smaller and shorter strokes along the upper lash line to create an even line as shown in the figure.
Step 2:
Now, raise your upper eye area socket and tight line the eyes with a kajal pencil or kohl. This will form an illusion of thicker eyelashes.
Step 3:
This is the final step to complete this look. Now, fill in your waterline with a kohl to get the natural style eyeliner look.
2.Heavy Bottom Style Eyeliner Look
Do you want to give a bolder look to your eyes, just try this splendid eyeliner style.
Step 1:
Everybody loves to have bigger and bolder eyes. This eye makeup style will help in emphasizing and highlighting your eyes the best way possible. Just put on a creamy kajal to your waterline. Then, start smudging it off gently with a pencil-shaped brush or a smudge brush. Now bring it down gently to the bottom lower lash line in a thick mode. This step can also be done by putting it with a matching eyeshadow to enhance the durability of the kajal.
[penci_related_posts title="You Might Be Interested In" number="4″ style="grid" align="none" displayby="recent_posts" orderby="random"]
Step 2:
Make use of a branded concealer to give a completely finished and polished look to the lower lash line.
3.Cat Eye Styled Eyeliner Look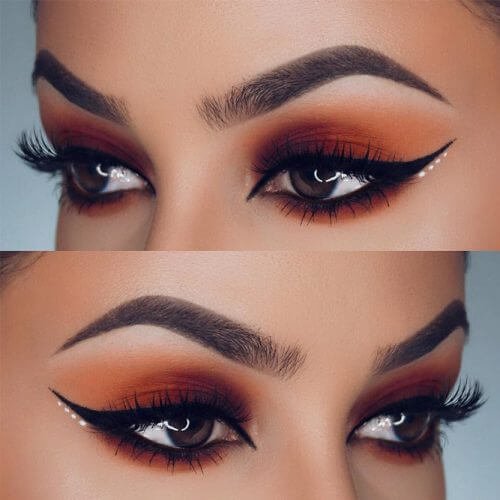 Wanna wow the viewers with a trendy eyeliner look. This is one of the best eyeliner styles to go with.
Step 1:
The most recent, hottest trend seen in runways is to grab a tiny flick at the crook of your eye. Start by forming a tiny small angular line at the outer corner of your eye by joining a line from your lower lash line. This step can be easily done by using a cello tape as a guide.
Step 2:
Drag the line inside to the midpoint of the eyes and stop it in the middle, and fill out the triangle shape.
Step 3:
Now, draw a thick line from the inner corner of the eye to finish the style.
4.Dramatic Eyeliner Look
Wanna sport a stylish look in the gatherings to mesmerize everybody. Here is the best way to go.
The dramatic eyeliner look is just similar to the cat eye look, but this is somewhat intense and more appropriate for parties. Simply, draw a line at the outer crook of your eye by joining a line from your lower lash line, almost getting to the eyebrow end. At that point, pull the line inwardly to the midpoint of the eyelid and fill the shape made to finish out this look.
It is good to keep the lower lash line light for this eye makeup and avoid filling it totally. Make it simple with a lighter color kajal or a nude kohl pencil for this eyeliner style.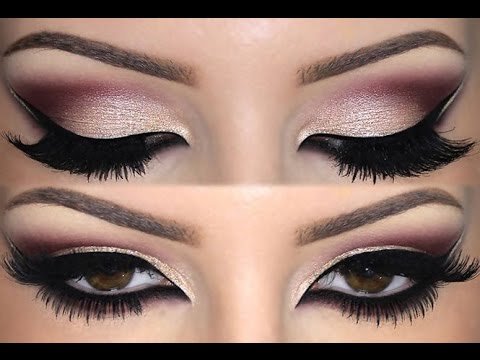 5.Double Winged Liner Look
Follow the same steps for a dramatic eyeliner look. Then, draw one more line parallel to the wing made earlier, but here create the line just by extending your lower lash line.