There are many ways to celebrate the Christmas festival. You can spend time with your family, or you can on holiday, watch movies, or just enjoy the festival and decorate the Christmas tree.
But there is another way to bring the glitz, glitter, and glamour of the holidays with some super sparkly Christmas nail art ideas. Just think about that feeling that your nails are shining more than the Christmas tree. You can't take your eyes off the wide variety and many designs.
Now let's start the beautiful journey of exploring the best and most festive nail art ideas.
1.Teeny Christmas gingerbread designs-
Your hands will look so beautiful with this design. This design is best for those whose hand coordination is not steady for paint. Then; gingerbread nail stickers will be your best friend forever.
2.Green and gold decorative holidays nails-
Your hands will perfectly coordinate with the Christmas tree, and you will get a perfect look for a Christmas party with these green and gold nails.
3.Brown French tip Christmas nails-
It is not essential that Christmas nails have to be red, green, and gold. A totally different but yet goes with the theme can create magic. Just try it out once. You will love the experience.
4.Reindeer nails-
Reindeer nails for an over-the-top Christmas look. It will give a different look to your nails. Especially if you have short nails, you will love it. Those red sparkles and off-white and black polish amaze you with their radiation.
5.A small touch of sparkles for Christmas-
I never imagined that a simple look could give this festive result—the gold, blue and pink colors on the sparkly nail polish. Just flick a very thin layer on the top half of each nail, and you will be surprised by the results. So, what are you waiting for? Just try it out once.
6.Starry metallic nail tips-
You will feel like the Christmas tree stars are now on your nails. This looks so beautiful and so special. This metallic design at the top of the nails enhances the beauty of your nails, and those stars will shine brighter than the stars in the sky.
7.Multicolored holiday metallic nails-
All the colors of Christmas will be on your hand. Just pick the perfect combination, and seeing your nails will give a tough competition to the rainbow.
8.Candy cone Christmas nails-
If you have long nails, there is a great option for you. You will get obsessed with this look. It gives a transparent look to your nails with beautiful colors.
9.Christmas nail idea: long stiletto tips-
You can go with this one if the bright red shade feels too much. It will match any Christmas dress. Best design for keeping it throughout the holiday season and all the festivals.
10.Minimalist nail design for Christmas-
Want to look different from everyone. Just try this one. You will never get bored, and you will thank yourself for choosing this beautiful option. Try this look with a neutral shade and cuticle oil.
11.Red and gold nails for Christmas-
Red and gold are the perfect combinations for a simple yet unique and beautiful look. This red and gold ail paint enhances the beauty of your nails, and you will love it.
12.Frosty Christmas nails-
It will give a snowy effect to your nails. Try this once; you will feel like your nails and hands are skating on the floor.
13.Gold and glitter Christmas nails-
It will give you a glamorous look; this pretty gold snowflake looks beautiful that you can't take your eyes off. Your fingers will shine because of the reflection of gold and glitter nail paint.
14.Swirly Christmas nails-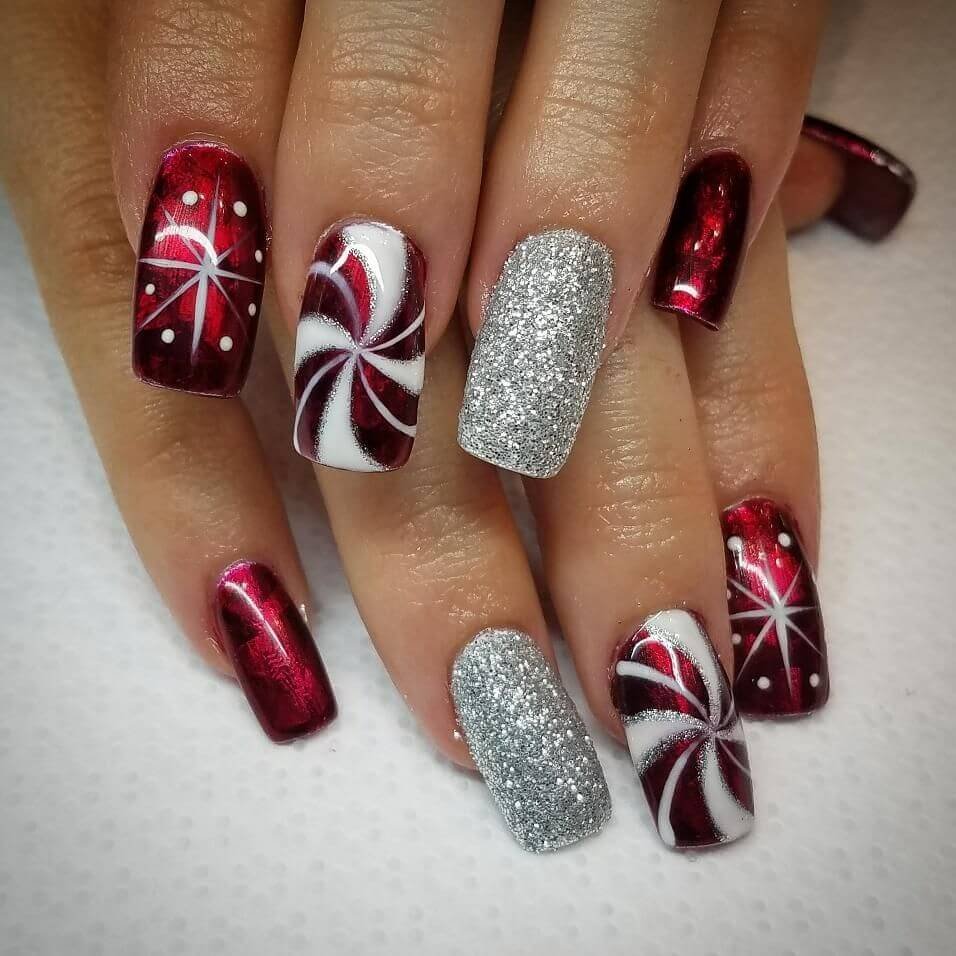 Available in many designs, it will give your nails a different look. It is not essential to always have straight-up Christmas wreaths on your nails to feel like you are being festive this year.
15.Gift-wrapped-inspired Christmas nails-
Give a beautiful gift to your nails in the form of this nail art. It is a different and unique design that nobody can ever imagine. Its detail is so perfect that it will look great and beautiful on your hands. This design will go with every nail, regardless of whether your nails are short or long. It looks perfect and so beautiful on your nails.
16.Gold foil nails for Christmas–
Different designs on each nail with this gold and black nail paint honestly look beautiful. You will not regret but say thanks to yourself for choosing such a fantastic idea and beautiful color combination.
17.Gold star nail art idea for Christmas–
Golden stars will be on your nails, and you will be amazed by their look. A different idea, and believe me, it looks beautiful. Stars in the color of gold give you a shine that is shinier than diamond. You will feel like all the stars are on your nails.
18.Green marble nails for Christmas-
Something different from gold and red perfectly goes with Christmas. This green nail will amaze you by its looks. This high-shine marble finish is just amazing. It will perfectly go with all kinds of nails and dresses. Especially with cozy sweaters, it will look amazing.
19.Sparkly jelly nails for Christmas-
It is glittery ad a very beautiful design. It is not an everyday look. There is a special time, place, and occasion for using it on your nails. It looks so sparkly.
20.Cranberry–colored nails for Christmas-
This one is the perfect option if you want a saucy look. It gives you a look that is different from every look and yet gives you an amazing look. Your hands will smell more than sweets. Try it out once, and your hands will thank you.
21.Confetti nails for Christmas party-
If you want multicolored nails for the festival of Christmas, then you can go with this one. This one looks beautiful and so colorful and perfectly goes with the colorful decoration of the Christmas festival.
22.Blue nails for Christmas-
A different but goes with every dress, whether you wear a modern dress, a saree, or a sweater, gives you a unique and beautiful look. Just try out this one once.
23.Sparkly silver snowflakes nails for Christmas-
It doesn't include any classic colors but gives you a superb look. You will love this look. Silver nail paint with sparkles gives you a unique look.
Conclusion-
Festivals are the best time to do experiments with your looks. And Christmas is a festival of lights, spark, and joy. So, your look should also be shining. And your nails played a very important role in your look. So ry out this all-Christmas gel nail at ideas, and your nails will thank you.
Frequently asked questions-
What is Christmas nail gel?
Gel nails are a type of artificial nail that resembles a natural nail. Gel nails provide more glossy and natural nails.
How long does a gel nail last?
Gel polish is entirely different from regular nail polish. Gel nail polish needs UV or LED light to form a hard layer. On average, gel nail polish last two to three weeks.
Is there any side effect of gel nail polish?
Because they are hard on nails so nails gel can cause nails to crack, peeling and brittleness, repeated use can increase the risk for skin cancer and premature skin aging on the hands.