Acrylic coffin nails are long nails with flat and square tips—also called ballerinas. They are also customizable in their shapes and colors. Long nails without sharp points are the best trending nail coffins nowadays. Wearing these nail coffins would make you glamorous and attractive. Women across the world widely use these acrylic nail coffins. So, to make you look glamorous and attractive, we have found some of the best acrylic nail coffins available in the market for you.
Sharp angles these are nails with sharp edges which look fantastic. These are short-sized nails with bright shades. The top of these nails is square-shaped. Thus they create sharp edges. This looks beautiful. And will increase your glamour and boost your confidence.
1.Glittered Nails with colorful tips
Next, we have different colorful designs. These glitter with different catchy attracting colors but different colors at the tip of the nail. This combination of different colors and glitter makes it look much more attractive and eye-catchy. You can use any color of your choice to recreate it; the best combination that you can try is the light color blending into the dark, catchy color.
2.Nude nails with gold art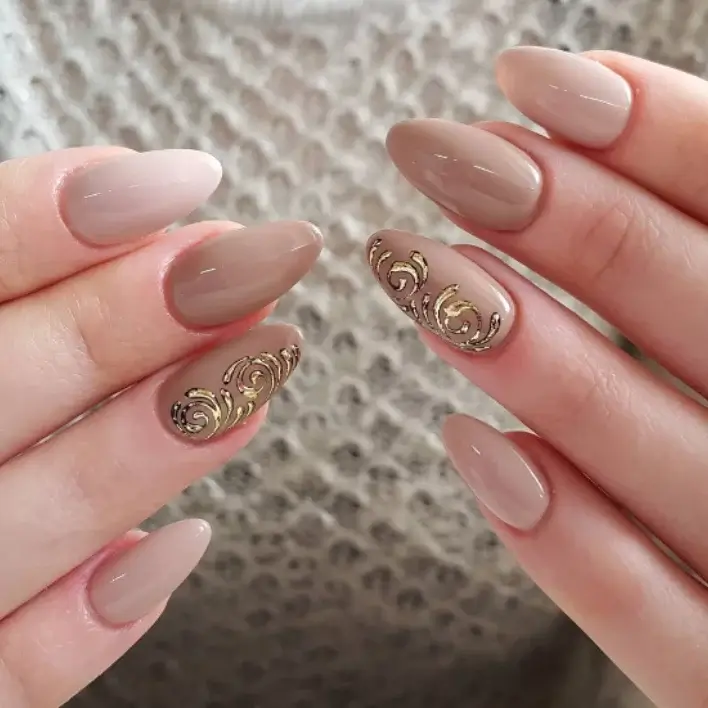 This comforting eye color looks great. If you are a fan of nude light color, this design is for you—this design includes two strips of gold on either nail of both hands. The gold color gives an intense look. This looks good with nude nails and the light color with the golden stripes.
3.Glitzing nails coffin with design
If you love glittering colors, then this is for you. This includes different designs for each nail which also contain glitter gems and chic colors. This design would be great if you would try it on the occasions like wedding receptions.
4.Nails with crystals
This will make you look amazing at events such as weddings and other important family functions. This includes different types of crystals on the nails. You can try these with alternate fingers, which will make you stunning. The most beautiful color in the background can be the color pink. This light color will match any crystal onto it. And this will look rich and attractive.
5.Nail coffins with flowers
These are the nail coffins that come with the design of flowers. This feels good when it includes light colors like pink, yellow, light green, and white. Flowers are printed in these light colors. These nail coffins will be perfect for young ladies and look pretty with them.
6.Baby boomer acrylic nail coffins
These are the nail coffins, the same as the French ombre nails. These come in colors like white and light pink with the ombre design on them. This nail coffin is worn with glitter nails. This design will be perfect for occasions where you want to look sparkling and glamorous.
7.Purple acrylic nail coffins
These are nails with a dark purple color painted on them. This could also be done alternately for the fingers. This rich purple color gives an elegant feel and looks great. This can also be combined with the light pink variant; the combination of these two would be unbreakable.
8.Marble acrylic nail coffins
This is another best and most popular design. In this design, the index and the last finger are covered with marble nail coffins, and the other finger includes a French ombre with gems on it; two of them include light pink glitter. This gives a glittering experience, and the marble nail coffin makes it rich.
9.Orange ombre nails
We have another ombre nail design. In this type of acrylic nail coffin design, the nail starts with a light color and turns bright orange as it approaches the end. The color combination is awesome. Various kinds of light colors can be used to recreate this design. And this design looks wonderful.
10.Nude nail with red end tips
This design has a red tip on the nail, which is of the 'v' shape. Here two nails are covered with gold glitter. This red-end tip looks attractive and trendy.
11.Black acrylic nail coffins with glitter
Black, one of many people's favorite colors, makes you look trendy with the black nail coffin. Each figure has a different design, including glossy black, sparking black, glittering black, and nude nails with black tips. You can try different combinations of sparking black glittering black and glossy black and make your choice.
12.Sparkly acrylic nail coffin
This is also an acrylic nail coffin with a sparling design. This design includes nails having soft and light ombre, some are sparking, and two nails are decorated with rhinestones.
13.Vibrant pink acrylic nail coffins
Jazz up your nails with the vibrant pink colors. All of the nails are painted with bright pink color, and two of them are sparking. Nails like this are perfect for the summer season. The glossy pink color will be awesome
14.Glam glitter nail coffin
We have a very glamorous design. Some nails are sparkly, one nail is pink with rhinestones, and the last nail is a rose gold color. The pink and rose gold colors are a stunning combination, and with the added glitter and crystals, the nails. Nails like these are a must-have for any occasion where you want to dress to impress.
15.Matte French ombre nail coffin
These are the other type of ombre design types. Two different ombre combinations are used here. Some of these nails are classic and chic French ombre. And the other two nails are nude with a soft yellow ombre design. The yellow and white has a beautiful combination and look very pretty.
Conclusion
Every woman wants to look beautiful, and nails are the things which are very close to them and also the best past that can be shown off. So, in this article, we have seen different designs of acrylic nail coffins, which are famous and widely accepted. Women can use these designs according to their needs and occasions. Some combinations of the above designs would also work great. We suggest trying these designs to extract your beauty. These acrylic nail coffins will give you a unique look. And is highly recommended if you are a big fan of nail coffins.