Acrylic nails have been with us for decades, but they get more popular in recent years thanks to social media and nail art obsession. This is the best option for those looking for long nails who want to add strength to their nails. Acrylic nails enhance the beauty of the nails.
Acrylic nails-
There are so many options when it comes to design, like cow paint or flames, waves and swirls. There are so many acrylic designs, and choosing one from them is difficult, so, making your life easier, there are the 20 coolest acrylic nail ideas.
Now start this beautiful journey of finding the best one for you
1.The abstract design for acrylic nails-
These are beautiful wavy abstract lines. The best part about this nail is that it is easier for anyone because they don't follow any rule that it should look like that. Only if you want to do some experiments with the abstract design, you can do it. If you want dots, you can also paint that; if you want to get vibes of the 70s, you can also experiment with them. Abstract nails are rising on Instagram, and people like it. So, you are waiting to go and paint your nails with these waves of life.
2.Two acrylic nails decorated with flowers-
Flowers are the best thing to make you fresh, and flowers lift your mood instantly. And there is icing on the cake when flowers are decorated on your nails. The speciality of this design is that they look beautiful on short nails, too, as it looks beautiful on long nails.
It will enhance not only the beauty of your nails but also the beauty of your personality because flowers are with you now. So, when do you make the next appointment? Please take it as soon as possible and decorate your nails and yourself with flowers, smell the fragrance with yourself, and feel the softness of flowers under your feet.
3.Three cow print acrylic nails-
In the box of designs, cow print is something new and unique. When it applies to your nails, you feel the blessing of a mother cow and feel as calm as you are in your mother's lap. This unique design will not only enhance your physical beauty but also enhance your inner beauty. Try this once, and you will fall in love with this.
4.Neutral acrylic manicure-
Acrylic does not mean only something super designed and extraordinary. You can go with this one if you want acrylic nails without any print. "As beautiful as simple" this phrase perfectly goes with this acrylic design. This idea is all about neutral colours and soft clean lines. So, are you surprised? As we already said, there is something for everyone. Just go and enjoy this beauty of simplicity.
5.This swirl design of acrylic nails force you to fall in love with them-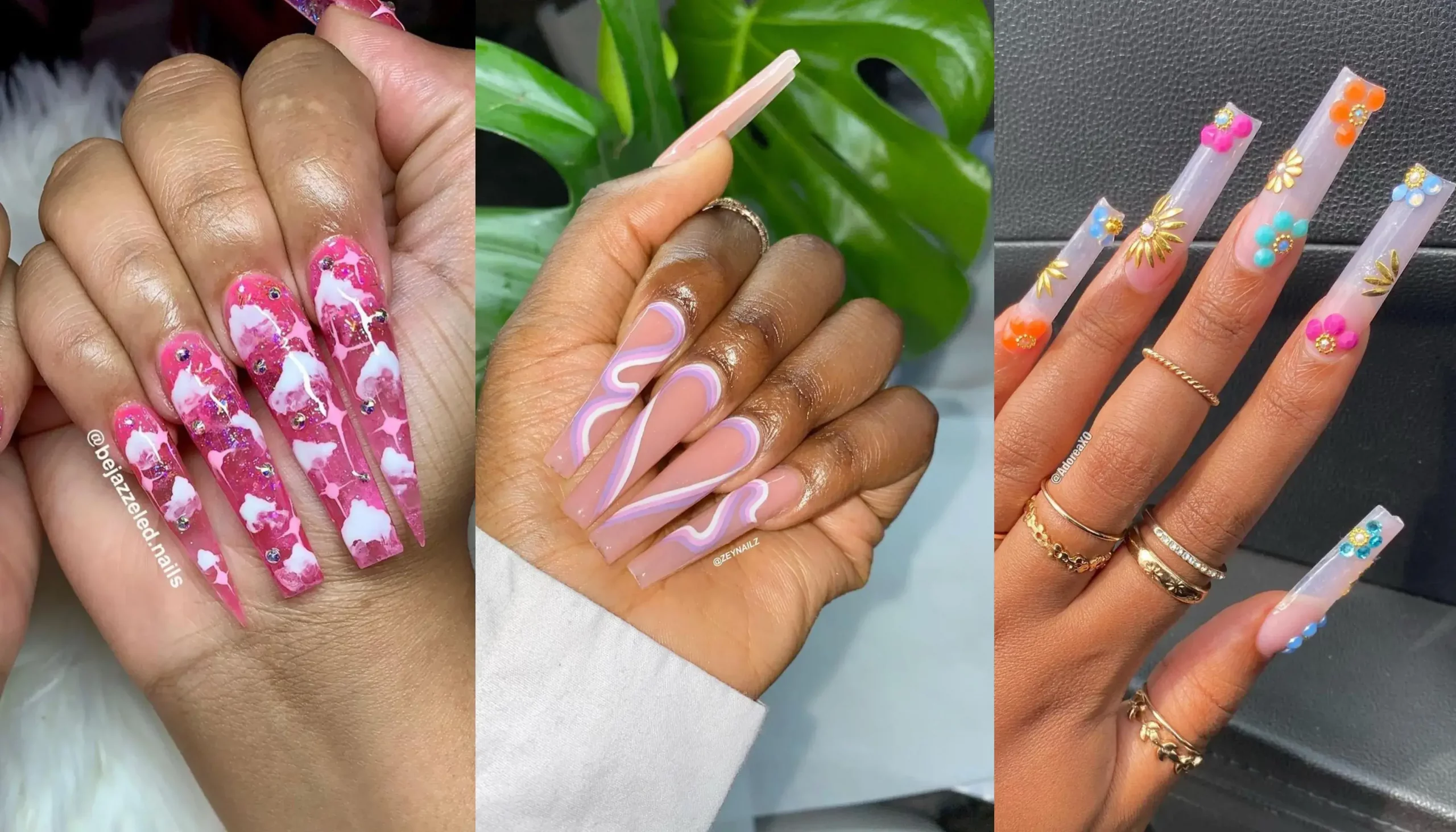 This is one of the coolest options. You will feel yourself in the air when you look at your nails with this design. Different colours excite you more, and you will see yourself in a colourful river. Don't hesitate and try out this once you will get a lifelong experience of his beauty in your hand. And the special thing is that it goes with everything from oval to square.
6.These galaxy acrylic nails-
The galaxy will be on your nails when you apply this design to your nails. Its details are super beautiful and super exciting. At night when you see stars in the sky, you want to pick them now; this dream will come true, so don't wait, go and make that dream real and take all the stars from the sky and decorate them on your nails. Try once and feel this never-ending joy of decorating stars on your nails.
7.Seven floral designs for acrylics-
Floral designs are always in trend and never go out of fashion. Whether you want full coats of colour or negative space accents, you will find dozens of options of different floral nail designs. This is available in many colours, many designs, and many patterns. Choose your nails to be the way you want to look them. Make your nails beautiful and feel the beauty.
8.This negative space idea for acrylics-
It is one of the coolest acrylic nail art ideas. Especially if you have long nails go with this one; you will conquer the space and people. The natural base, the green accents, and the crisp lines just hit you differently, and you will feel like a queen. Just try out this one, and you will demand more of this in future.
9.Sparkly acrylic nails-
Simply beautiful. Perfect on its own. When you want something festive but classy, go with this one. You will amaze by its appearance. It will make your nails and hands beautiful moon and shining like stars. Give this acrylic nail design a chance, and thank yourself for the wonderful decision.
10.Wavy acrylic nails-
Your hands will move like a wave of a river. This one is in trend also and getting more attention on social media. Try this once and enjoy this multi-colour nail art. So, what are you waiting for? Just go and follow this trend.
11.Pink acrylic nail idea-
Your hands will sparkle, and your nails will look like a shining stars. This pinkish effect looks beautiful on your hand. And the special thing about this one is that it will go with any nail shape.
12.Blue acrylic nails-
This acrylic nail idea will give a soothing and soft effect. It will look great on super-long extensions. This blue colour will give you the effect of water floating on your nails. You will love this beauty of blue.
13.Cherry acrylic nails-
It looks so cute when you apply this design to your nails. It is a very sweet idea, and you feel the smell of the sweetness on your nails and hands.
14.This butterfly idea for acrylic-
You will feel like you are in the garden where these butterflies are flying everywhere, and you are just enjoying this colourful butterfly. Just go and take all the butterflies in your hand and paint them on your nails, and with surety, you will love this.
15.Green tips for acrylic nails-
If you want something different, then this one is the best idea for your nail art. Enjoy the greenery of nature. You will like this more as many times you use it. You will fall in love with this.
16.Pink swirl idea for acrylic-
If you want a pretty but not cheesy nail idea, this one is the best option. Pink, red, silver, and glitter create a beautiful nail design. Just give it a chance, and then you will never regret it.
17.These tortoiseshell tips for acrylics-
Something new and original goes with it. Your nails will look beautiful, and you will be very happy. This design looks beautiful on long, round acrylics.
18.These fire acrylic nails-
Your nails will look so radiant and beautiful with this flame idea. Something different and unique, you will enjoy it. Choose a different colour on each nail, which will look more beautiful.
19.This ocean design for acrylic nails-
Use it, and you will feel like you are lounging on a tropical beach. These beautiful shades of blue and white will look amazing and give you a soothing effect.
20.These lime green acrylic nails-
These lime green acrylic nails will give you so much freshness, and you will love it. They will give you the coolest effect, add it's polishing is just amazing.
Conclusion-
At last, I would like to conclude that your hands and nails will thank you for these beautiful gifts. So what are you waiting for? Just go and make an appointment and give your best gift to yourself.
Frequently asked questions about acrylic nails.
1.Acrylic nails – what exactly it is?
Acrylic nails are a powder, and liquid monomer combined into a lob of dough, shaped onto your nails with a brush, and then air-dried.
2.How to apply acrylic nails?
Nails technicians will put acrylic on your tips or use nail forms to achieve a more natural look. Each acrylic is then shaped as desired and painted with polish.
3.Is it safe to use regularly?
Yes, it is safe to use often as you wish, but you should do it with the help of a nail technician so that you are sure that you go to a properly trained and experienced in applying them.